Now that March Madness is upon us, our Columbia car dealership has become part Hyundai dealer, part basketball-viewing station. That's all right—we don't mind having pick-and-rolls and alley-oops on our minds. To get you in the same basketball spirit, we stretched out our creative muscles to give you Hyundai's "starting five," a roster of the top models to lead the 2018 Hyundai team into the championship round.
Put your hands together for tonight's starters.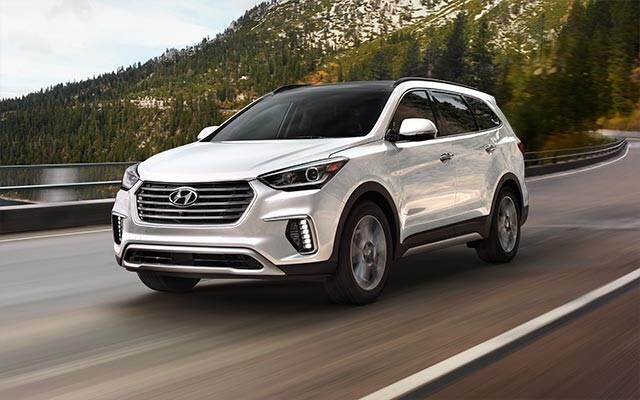 2018 Santa Fe
At center, with a wingspan of over 193 inches: The 2018 Hyundai Santa Fe.
The new Hyundai Santa Fe is a powerhouse whose post-up moves and fancy footwork are as nifty as its frame is long.
With 290 horsepower and 252 pound-feet of torque, the Santa Fe is a beast in the lane, devouring up the court even with a 5,000-pound camper in tow. Endurance is never a concern, either, as the Santa Fe returns 22 mpg on the highway. This Hyundai SUV also keeps its composure under pressure, earning an IIHS Top Safety Pick+ award.
The Santa Fe's ability to bring out the best in its teammates is why it's ranked the #5 Best 2018 Full-Size SUV by CarGurus.com. As a senior on this Hyundai squad, the Santa Fe carries the team on its shoulders—or rather, in its cabin, which offers an astounding 146.6 cubic feet of passenger room and 80 cubic feet of maximum storage space to the front row. It even lifts the sixth man to the top with its extended 7-person seating capacity and USB ports in the third row.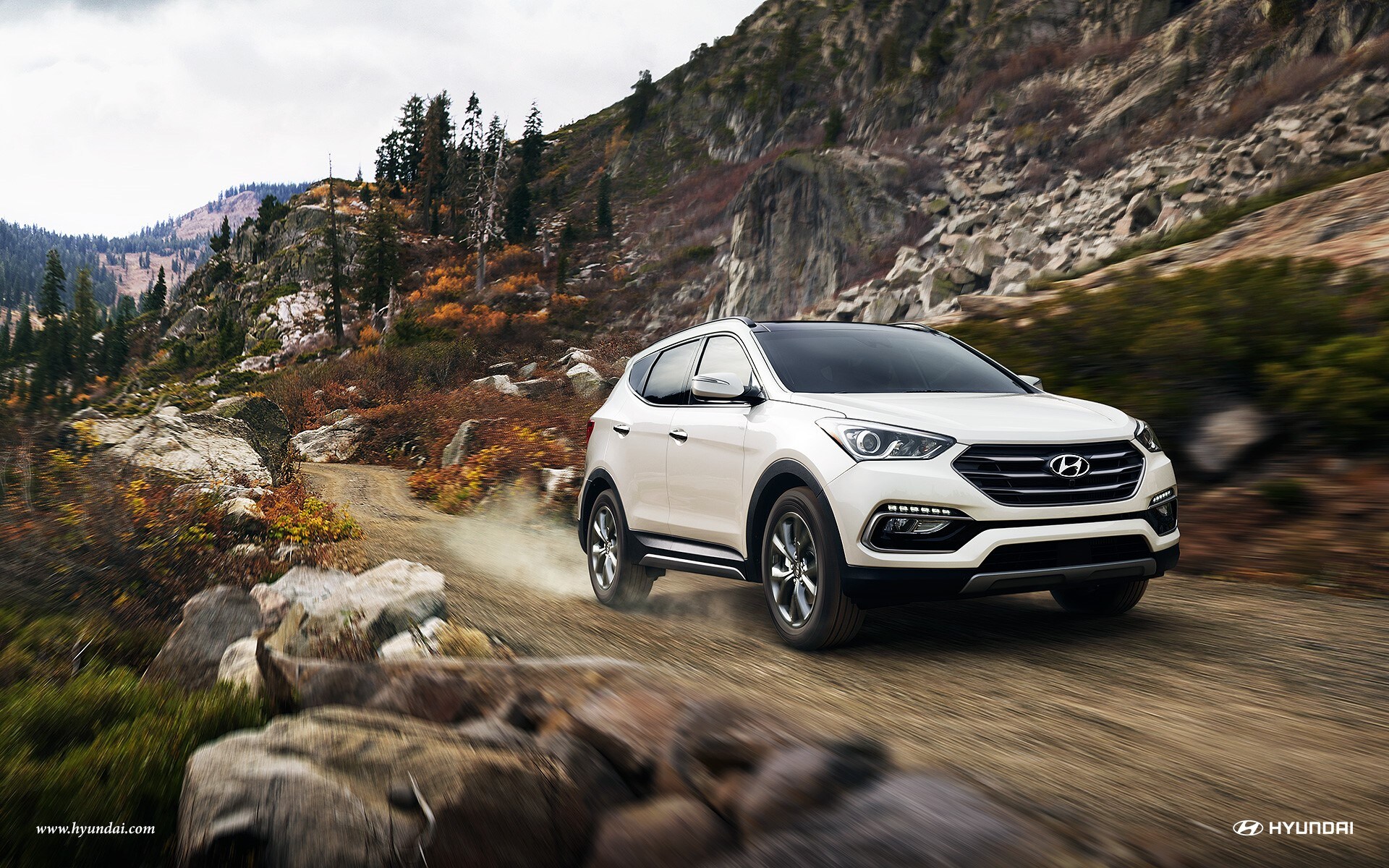 2018 Santa Fe Sport
At forward, weighing in at 4,100 pounds: The 2018 Hyundai Santa Fe Sport.
Its 185-inch-long reach and lightweight frame make the Santa Fe Sport leaner than the Santa Fe, as does its standard inline-4 that makes 185 horsepower. But the Santa Fe Sport has an overdrive mode that can take over any fourth quarter: A 2.0-liter turbo-4 that slams through 240 ponies with 260 pound-feet of torque, while also returning 28 mpg on the highway. When you need a play to be made, the 2018 Santa Fe Sport is your go-to.
Proving its worth on Hyundai's starting lineup, the Santa Fe Sport has led our Columbia Hyundai dealership to become one of the area's best car dealerships for years. We can proudly say we'd follow this midsize SUV to the edge of the world and back.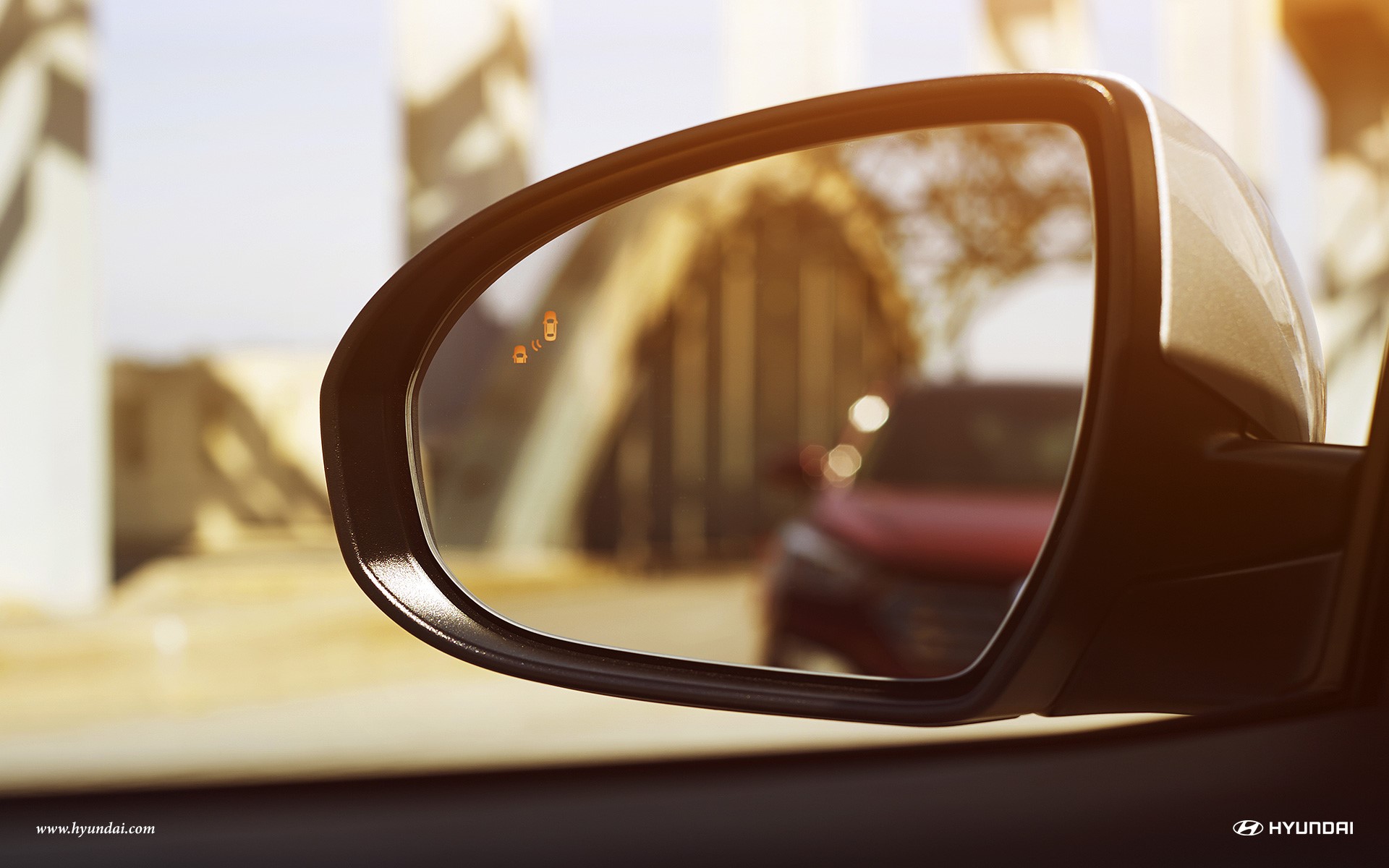 2018 Tucson
At small forward, with the segment's only 7-speed dual clutch transmission: The 2018 Hyundai Tucson.
Another senior star on the team, the Hyundai Tucson is a defensive guru. Its aggressive nature is evident on every possession—the Tucson's 105-inch wheelbase and 73-inch-wide stance are an opponent's worst nightmares come true—and it can grab a board or two thanks to its 61.9-inch cargo area.
What the Tucson lacks in power and overall size, it makes up for in nimbleness (a perky 175-hp turbocharged inline-4) and a propensity to attack the ball. Although the Tucson can't regularly do battle in the paint with bigs like the Santa Fe, its 176-inch wingspan makes it a versatile defender that can swat like the best of them. Add on a full range of Hyundai safety features in the higher Tucson trims, like Lane Departure Warning and Blind Spot Detection, and it's easy to see why the Tucson is a leading candidate for Defender of the Year.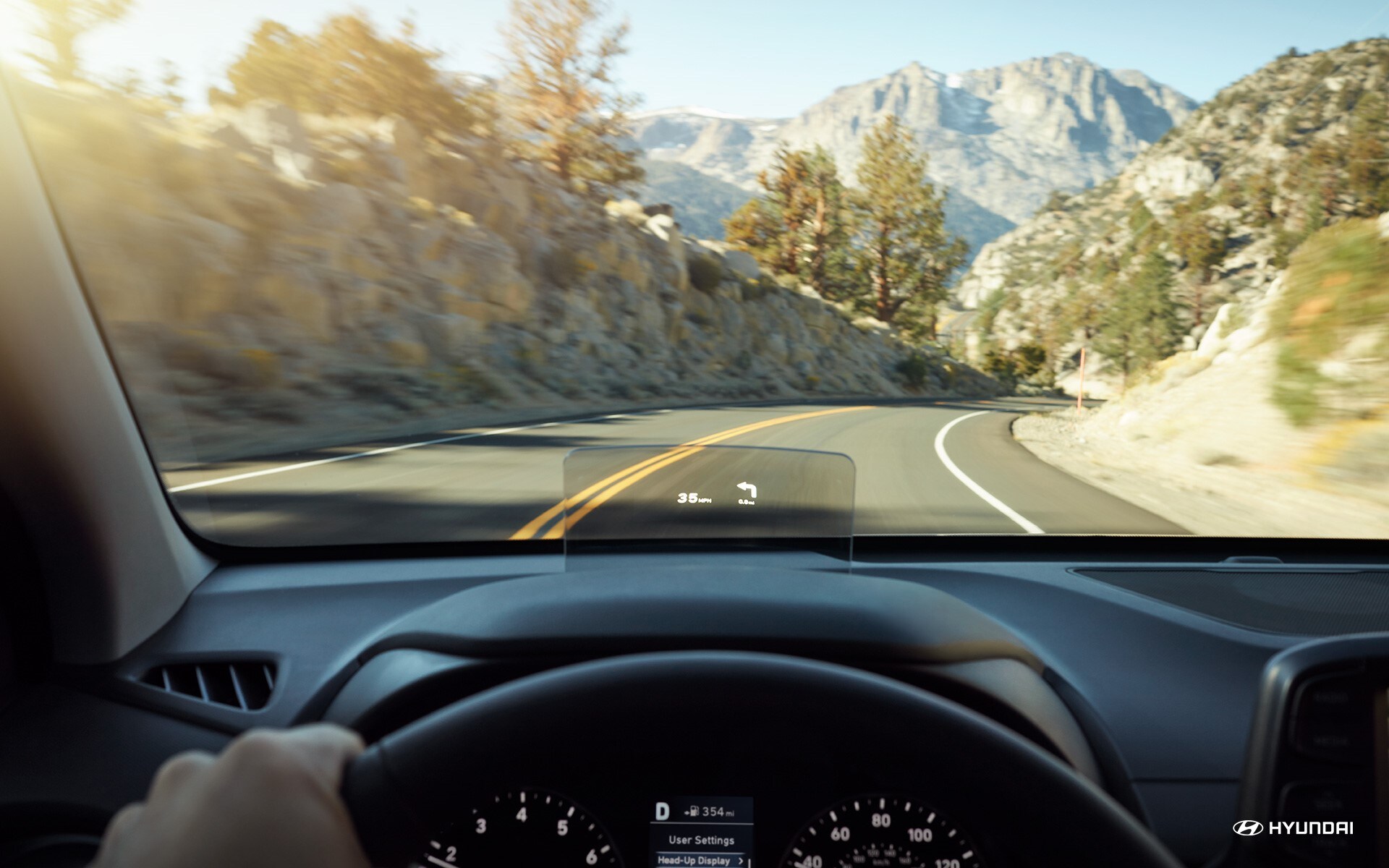 2018 Kona
At guard, straight from the assembly line in South Korea: The 2018 Hyundai Kona.
Although the new Kona is the sole rookie on the Hyundai team, the subcompact SUV (or "ute," if you'd like to call it that) is quickly making a name for itself as one of the best small crossovers in the country.
Its young legs are perfectly tuned for the pros, bringing in 33 mpg on the highway, which is a good deal more than other fellow rookies like the C-HR. Leaving the Kona on the court for an entire half isn't out of the question.
The 2018 Kona is also wise beyond its years. A "heads-up display" is a new addition to the Hyundai lineup and exclusive to the Kona, offering important information on the windshield, just within line of sight. This heads-up display projects speed, directions, cruise control settings, safety features, and more, ensuring the new Kona is making the best use of its playing time.
As perhaps the biggest steal in the draft, the 2018 Hyundai Kona is priced below other small SUV rookies, including the Honda HR-V, Toyota C-HR, and Mazda CX-3. Considering it brings the segment's only wireless smartphone charging pad, standard Android Auto and Apple CarPlay connectivity, and a slew of additional new-age tech to the table, that rookie deal is hard to beat.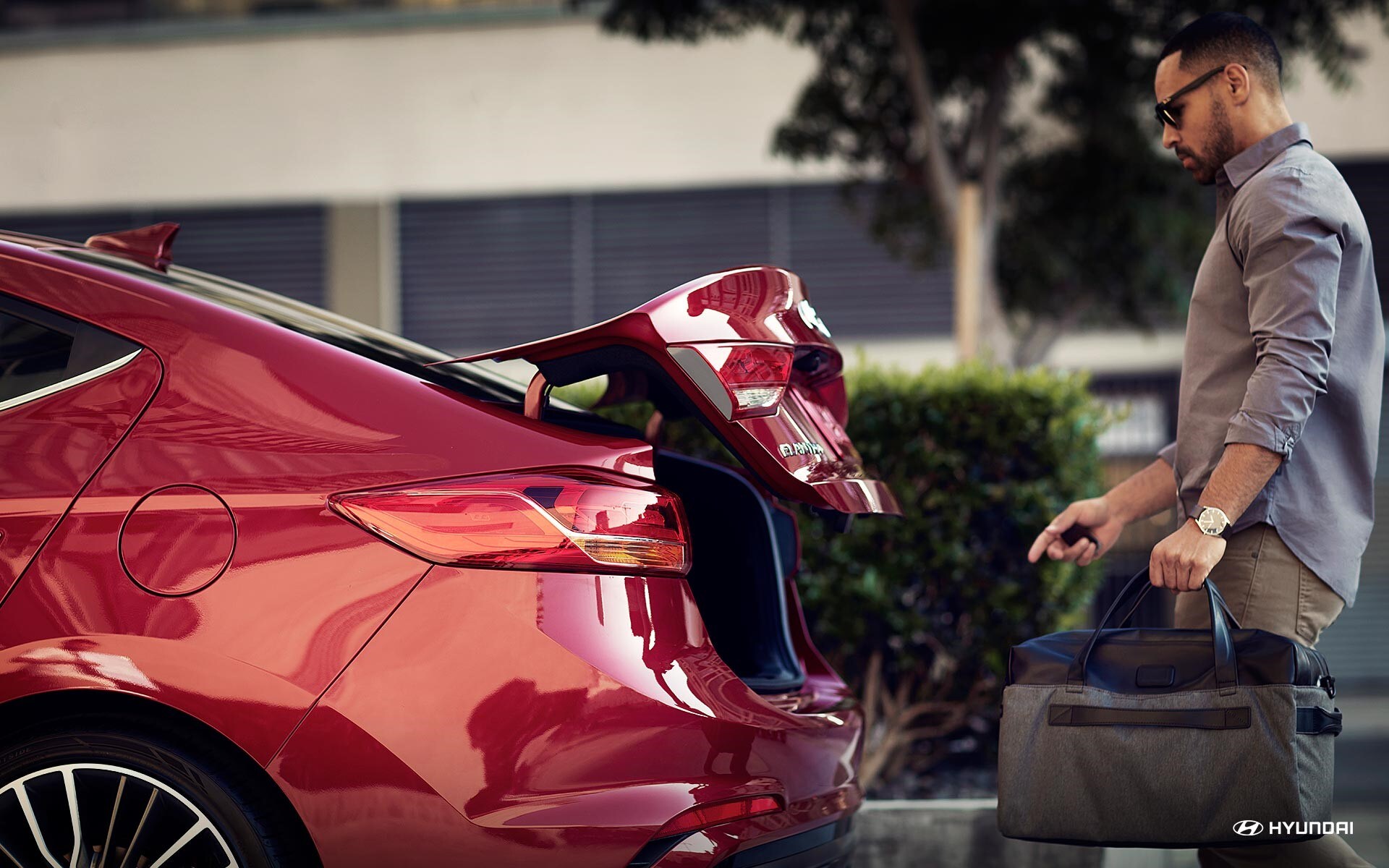 2018 Elantra
Finally, starting at point guard: The 2018 Hyundai Elantra.
The entire Hyundai team is led by its jack of all trades, its doer of all and taker of nothing, its on-court leader and off-court role model: the new Elantra.
Small in stature, the Elantra isn't expected to drive the lane; it is, however, expected to make smart decisions. The range-topping Elantra has got eyes in all directions and dishes out dimes like nobody's business. Offering Blind Spot Detection, a hands-free Smart Trunk, Lane Departure Warning, an integrated memory driver's seat, Lane Keep Assist, and Dynamic Bending Lights, the Elantra's full suite of safety and driver-assist features is unmatched by rivals like the Nissan Sentra, Honda Civic, or Toyota Corolla.
Its voice is loud, too, orchestrating both the offense and defense to perfection. An Infinity® Premium Audio system with Clari-Fi™ Music Restoration Technology cuts through chants and boos like butter, which is aided by the aircraft-quality adhesives and an insulated cabin that deafens unwanted noises.
You won't see the 2018 Elantra winded often, either. Returning 40 mpg on the highway, the Elantra is as fuel-efficient as other popular compact cars in its class.

Dribble into Jim Hudson Hyundai to Take a Test Drive
For a handful of weeks, the NCAA Tournament will roll on, and so too will the newest Hyundai models from our lot—straight into hundreds of Columbia driveways and garages. To get a peek into what makes the new 2018 Hyundai SUVs and cars championship contenders, take a trip your premier Hyundai dealership in Columbia, SC. At Jim Hudson Hyundai, we'll help you score a buzzer-beating deal on a new car or SUV, including any of the amazing new Hyundai vehicles.
To take a test drive this March, just call us at (803) 339-1629 or stop by our Columbia car dealership at 310 Greystone Blvd. Happy shopping!
Sources & Photos:
http://www.iihs.org/iihs/ratings/vehicle/v/hyundai/
https://www.cargurus.com/Cars/userrankings/best-2018-full-size-suvs_vl15_12