As one of the best Hyundai dealers in Columbia, we see a lot of new models hit our dealership floor each year. We experienced the era of the Tiburon, the rise of the Genesis, and the most recent generation of Accent & Veloster Hatchbacks. But after decades of serving as your trusted Columbia Hyundai dealer, it may be the all-new 2018 Kona that has left us the most excited. It's essentially Hyundai's first attempt at creating a subcompact crossover, but there is no learning curve to be found—it's instantly that good.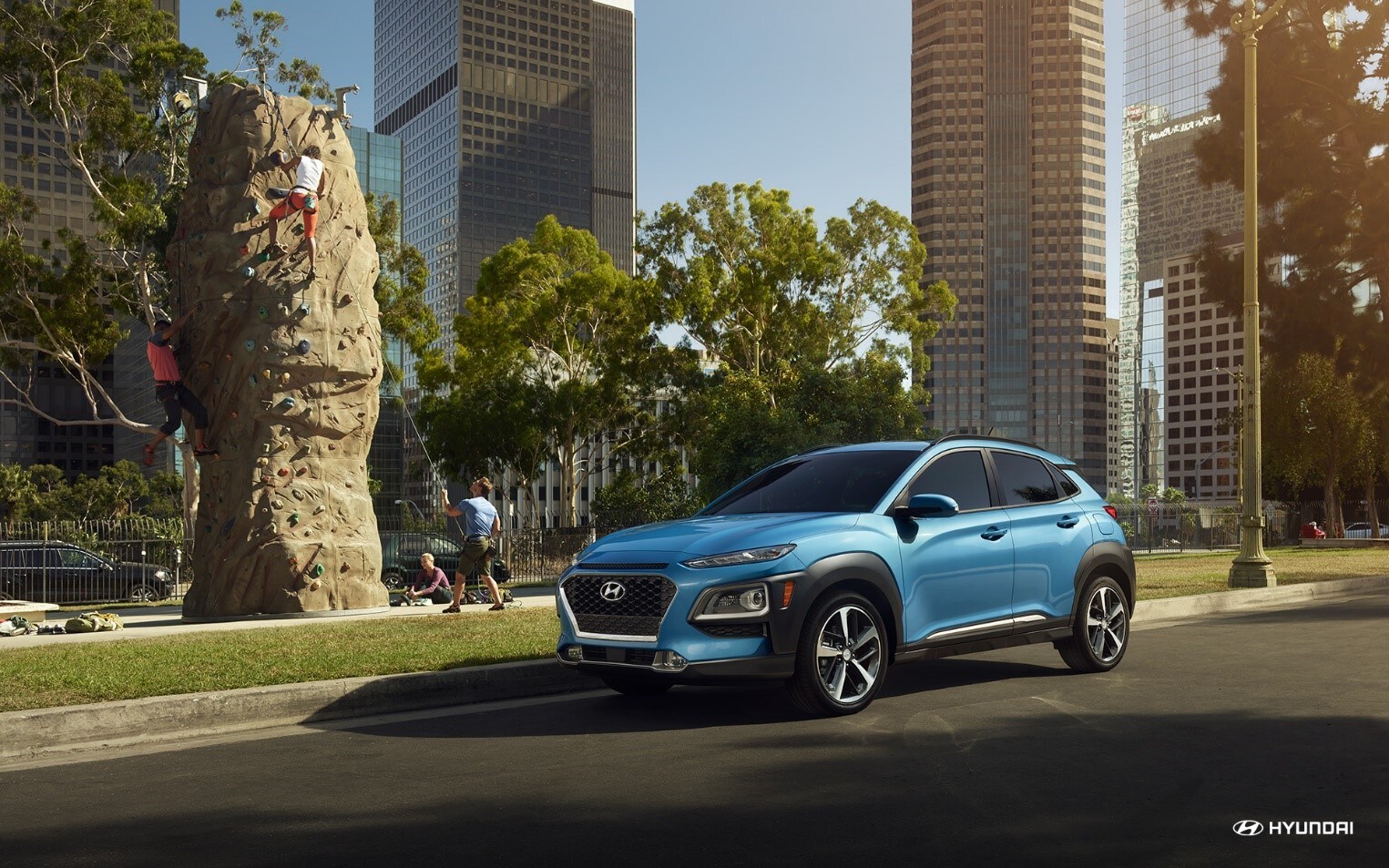 Quirky Chic: The Only Adjective Needed
Explaining how the 2018 Hyundai Kona looks takes more than a few hundred words. Simply put, this new Hyundai crossover SUV has a certain panache that can best be described as "quirky."
But first, let's run down the basics. The new Kona is available in four unique trims: SE, SEL, Limited, and Ultimate. The two starting trims (SE and SEL) are powered by a peppy 2.0L 4-cylinder that makes 147 horsepower; the Limited and Ultimate Kona models step up the game with a turbo-four 1.6L that generates 175 horsepower using a 7-speed dual-clutch automatic.
Built on an all-new chassis, the 2018 Kona is equal parts chunky, equal parts streamlined. The front is highlighted by a mesh grille and thin LED headlights that are enveloped by intriguing wheel well accents. In the back, a bulky fender that seems to be inspired by your typical compact SUV, albeit a more refined one. Although unseen by most, the backup camera lens features a special film to prevent moisture and mud from distorting the image.
Shoppers at our Columbia Hyundai dealership should try out the Lime Twist-colored Kona, which is a bright and fully fleshed-out realization of Heaven on Earth.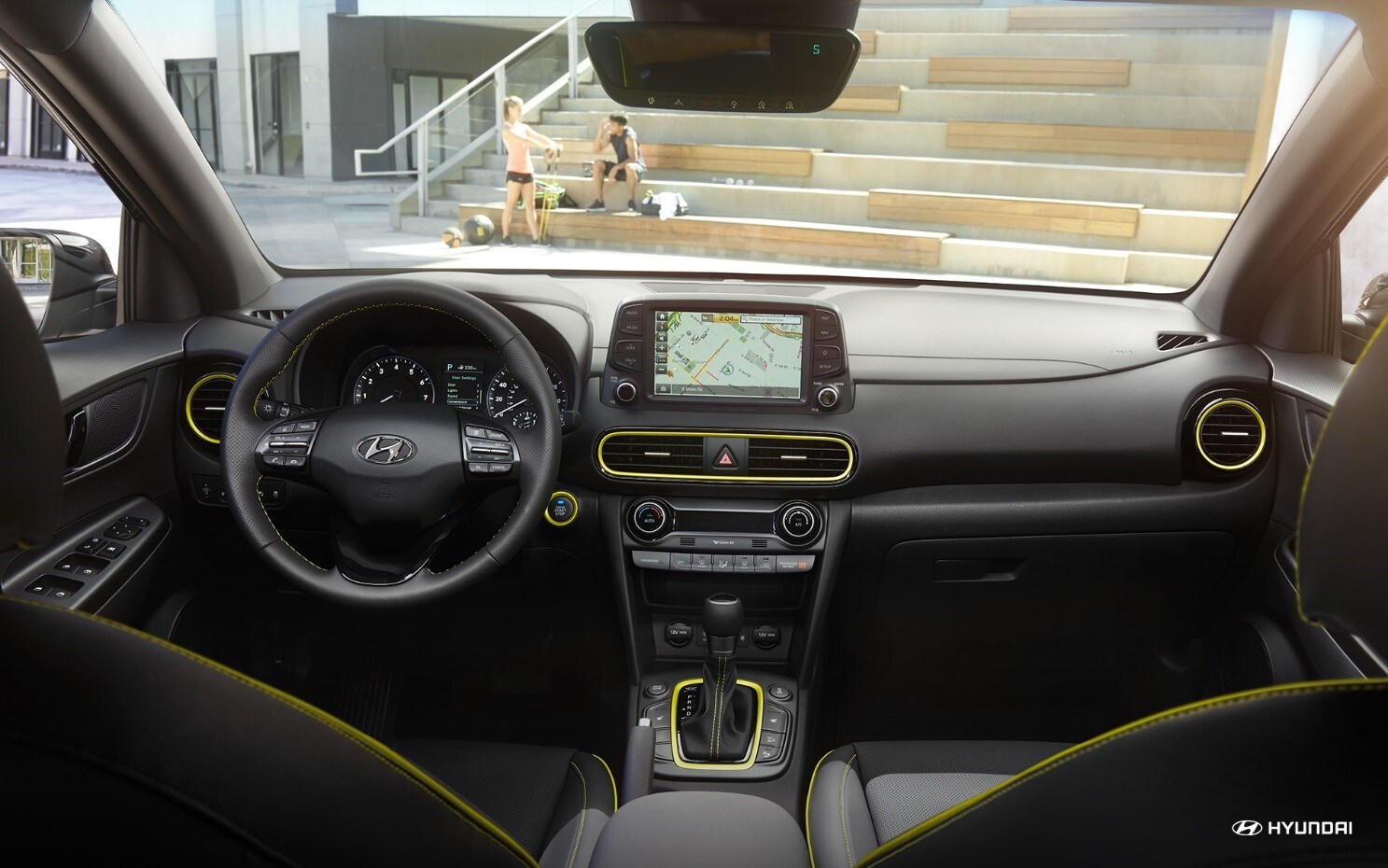 A Supremely Confident Interior
Although a bit shorter than the Tucson, what the new Kona lacks in length it makes up for in the cabin. On the inside, the Kona truly shines. Interior dimensions closely resemble that of its rival Honda HR-V—39.6 inches of headroom vs. the HR-V's 39.5, for instance—but it feels significantly more spacious. A shallow storage tray sits underneath the rear cargo hold, which offers 19.2 cubic feet of space up to the second-row seat—more room than the class average.
Hyundai's biggest play in the Kona playbook is its standard equipment, which includes a 7.0-inch display, Apple CarPlay, Android Auto, Bluetooth, individual TPMS, and auto-activated LED headlights. Step up and into the Kona Ultimate for navigation, a premium sound system, wireless Qi charging, rain-sensing windshield wipers, Blue Link system, and a special head-up display.
The head-up display is a work of art. Projected on a transparent panel on the dash, just within line of sight of the driver, is all the pertinent information one could need to get. Unlike other vehicle head-up displays, Kona's system does not splash onto the windshield; instead, it utilizes a specialty panel that stretches vertically across the dashboard. This cuts costs for you, as standard head-up displays usually require expensive glare-reducing films to adequately convey its details.
With the Lime Twist model, leather seats and a dark black dash contrast perfectly with the lime-green accents. You'll just have to visit our Hyundai dealership in Columbia to see it for yourself.
Safety is Hyundai's "Bread 'n' Butter"
The 2018 Kona, like most Hyundai models, is a prime example of how Hyundai respects its drivers. Front roof pillars are thin to offer superior visibility, brakes are firm, and the majority of the vehicle's body is made of high-strength steel. Advanced safety features are abundant, especially in the Kona Ultimate model. Automatic emergency braking, blind-spot warning, lane-change assist, cross-traffic alert, and forward-collision detection with pedestrian alert are all either standard or optional; unique Driver Attention Warning and Parking Distance Warning systems are great choices, too, and help you keep you out of danger.
Hyundai's Affordable New Kona is Available Today
After over three decades, has Hyundai created its masterpiece in the 2018 Kona? Quite possibly, as the all-new Kona is something special—and it's available for lease and sale right now at Jim Hudson Hyundai in Columbia, SC. Contact our Hyundai sales team at (803) 339-1629 to schedule a test drive, or simply stop by our Columbia car dealership at 310 Greystone Blvd to apply for financing on the new 2018 Kona or any of our other new Hyundai vehicles for sale.
Sources & Photos:
https://www.hyundaiusa.com/kona/index.aspx
https://www.caranddriver.com/hyundai/kona