The pumpkins are carved, the cider is made, and your backyard looks like a tree sneezed on it. That's right—it's autumn, the perfect season to get out and explore local events with the kiddos, BFFs, and cousins you barely know. Don't miss out on the year's best events! Here's what's happening this fall around Columbia, SC.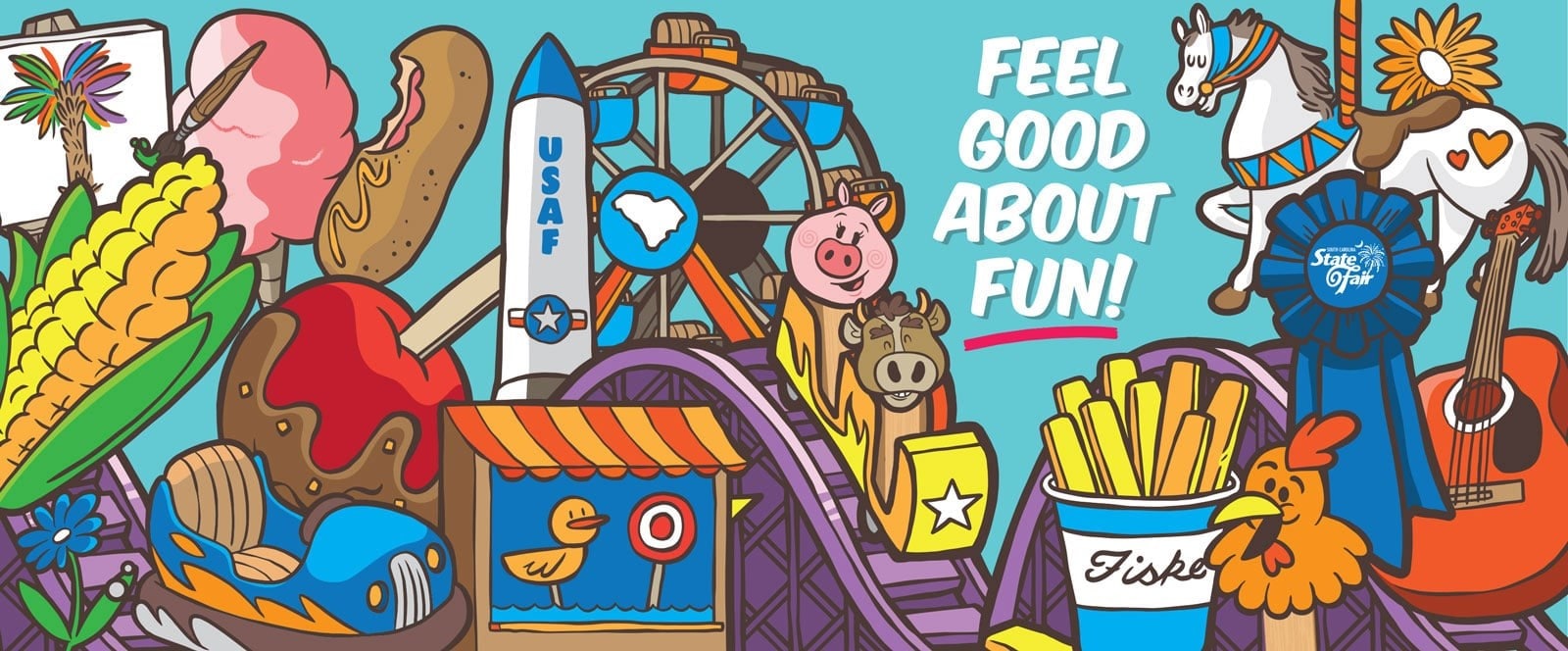 Photo: scstatefair.org

South Carolina State Fair – October 12 to October 22 – Columbia, SC
Just making the seasonal cutoff for our list, the South Carolina State Fair has over twenty years of excellence in its sails, and its proceeds go to a great cause: funding scholarships for students right here in South Carolina.
The fair has its share of rides including the new-to-the-scene Bullettrain Roller Coaster. And don't get us started on the food; a visit to the fair will give you some real down-south options to pick from, as well as novel creations we're guessing you haven't seen anywhere else. We think parents and kids alike will be blown away by some of the creations the fair has on tap, such as sandcastles out of a dream and structures built from balloons!
No matter your taste, there will be something here for you.




Photo: riverbanks.org

Boo at the Zoo – October 20 through October 31 – Columbia, SC

Spread across 170 acres and sporting more than 2000 animals, the Riverbanks Zoo & Garden is one of the south's premier attractions. We recommend you get late fall off to the right, fright-filled start, with Riverbank's renowned, eleven-night Boo at the Zoo series. Since 2003, the zoo has played host to this multi-night affair, offering a family-friendly Halloween option to parents in the greater Columbia metro area. The zoo really steps up their game this time of year, rolling out "Frankenstein's Foam Zone," and a campus-wide trick-or-treat event.
Plus, all your furry caged friends will be there to entertain.
Christmas Craft Show and Holiday Bazaar – November 4 – Lexington, SC
Transitioning to the "big" holiday season, Lexington Middle School offers a down-home arts and crafts fair for families in Lexington, SC. Over 40 vendors are expected to show their craftsmanship at this event. This is a great place to do some early Christmas shopping while also supporting local vendors. Everything from pottery to handbags will be on sale, and in case you need some extra festive items to spruce up your home, you'll also be able to find an array of Christmas crafts and ornaments. A silent auction for the local Harvest Hope Food Bank will be taking place, as well, and it's the ideal way to get into the Christmas spirit and help the community!




Photo: riverbanks.org

Lights Before Christmas – November 18 through December 30 – Columbia, SC
We return to the Riverbanks Zoo & Garden for the final event on our fall-season rundown. Lights Before Christmas has been illuminating the greater Columbia area for over 25 years, and it is truly a spectacular sight worth witnessing. This Christmas fantasia sports almost one million lights and has seasonal treats like hot cocoa for sale. For all the families thinking about stopping by, Santa will be making nightly visits up until December 23. It's an event that we're sure will lighten any mood and get you ready for the coming holiday season.
Knights of Columbus 7th Annual Fall Car Show – November 25 – Aiken, SC
Less than an hour drive from Columbia is the much-anticipated 7th Annual Knights of Columbus Fall Car Show. This local car event starts early (8 AM) and goes until the mid-afternoon (3 PM), and there won't be a shortage of customized cars and antiques on display. Having amassed quite a following over the last several years, this car show will be free to spectators, and all top-placing cars will win trophies. It's no secret that we're car people here at our Hyundai dealership near Rock Hill, SC, so this Thanksgiving auto show is right up our alley, and if you're like us, you'll be taking that short trip to Aiken once November 25th comes.
After attending the November car show, you might get a hankering for your own stylish ride. That's where we come in! As your go-to car dealer in Columbia, SC, we proudly have the selection, prices, and service you crave. With new Hyundai models like the 2018 Sonata and Santa Fe Sport in stock, Jim Hudson Hyundai won't let you down.





Contact us at (803) 339-1629 or stop by our Columbia used car dealer at 310 Greystone Blvd to take a test drive in any of our new or used cars for sale.
Sources & Photos:
http://www.discoversouthcarolina.com
http://midlandcrafters.wixsite.com/christmas-craft-show