When you want to save money on your next ride, there's no better place to start than right here at Jim Hudson Hyundai. As a Columbia used car dealership with a wide variety of pre-owned makes and models for sale, we're proudest of our inventory of certified pre-owned Hyundai vehicles. And we have no doubt that you'll love them, too.


Photo: hyundaicertified.com
Why do we think you'll fall for our CPO Hyundais? When you buy a certified used Hyundai, you get not only over $2000 in added value, but also these five extraordinary benefits.
5) Comprehensive Inspections
To qualify as certified, any used Hyundai must pass a thorough 150-point inspection that's carried out by a factory-trained technician. During this inspection, the Hyundai is test driven and examined to ensure that every component, feature, and system meets Hyundai CPO standards. Should any component not meet or exceed those standards, the technicians will recondition, repair, or replace the faulty components with genuine Hyundai parts or accessories. Only then will the car become Hyundai certified and ready for resale.
4) Free SiriusXM© Trial
If you're the type of driver whose finger is constantly reaching for the radio's "seek" button, check out a Hyundai certified vehicle that is equipped with SiriusXM©. Most late-model Hyundais have SiriusXM, and if you buy one that's certified, you'll come to appreciate the complimentary three-month subscription to its Satellite Radio package. This "All-Access" trial offers more than 150 channels of music, talk radio, weather, and other premium programming.
3) Unlimited Mileage Roadside Assistance
Flat tires, dead batteries, and empty fuel tanks—even the luckiest drivers can fall victim to these unfortunate on-the-road scenarios. With a Hyundai certified vehicle, you can find some peace of mind knowing that you'll never be left on your own thanks to the program's free 10-year Roadside Assistance service. If you pop a tire during rush hour traffic or run out of gas in the middle of the night, call 800-243-7766 for immediate assistance 24/7/365.
2) Travel Breakdown Protection
Lovers of road trips also benefit from owning a certified used Hyundai. If you're more than 150 miles away from home and encounter a snag in your trip, such as engine or drivetrain failure, Hyundai will reimburse you up to $100 per day for the inconvenience. Rental reimbursement for up to ten days is also provided. Of course, any repairs covered by your warranty are free!
1) Incredible Warranty Coverage
Every certified pre-owned Hyundai comes with the industry's best warranty coverage: A 10-year/100,000 Powertrain Limited Warranty. This warranty is completely transferable and covers repairs and replacement of all major engine, transmission, and drivetrain features. To top it off, this coverage is added to the car's original 5-year/60,000-mile warranty!
Here are a few more of the benefits you receive when buying a Hyundai certified vehicle.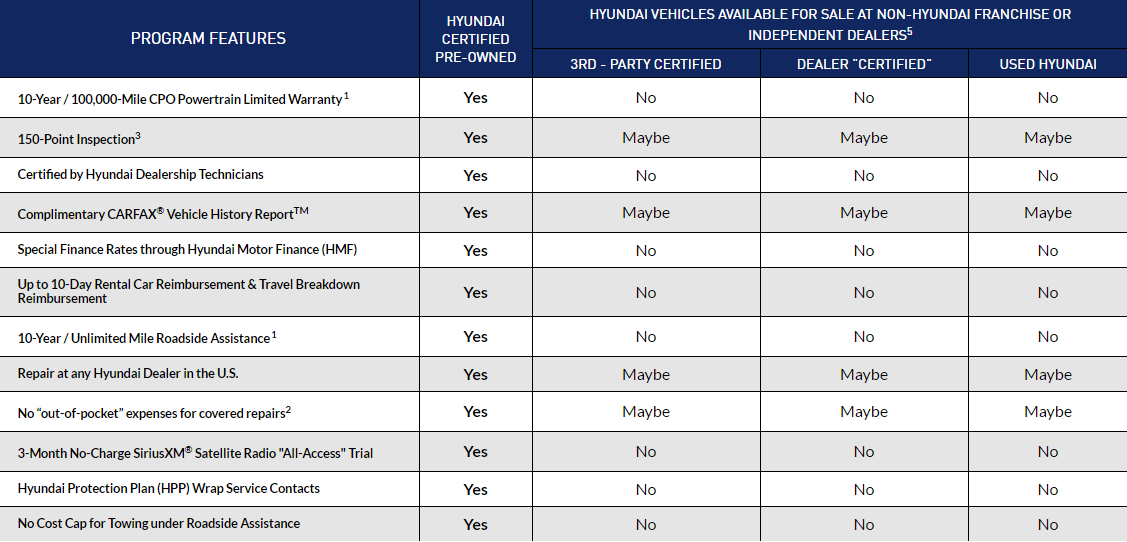 Photo: hyundaicertified.com
Grab a Certified Pre-Owned Hyundai at Jim Hudson!
Hyundai undoubtedly has one of the best certified pre-owned programs in the industry, and at Jim Hudson Hyundai, we're happy to help our customers take advantage of the program's many perks. If you live near Columbia or Rock Hill, SC, start your adventure into savings by browsing our selection of Hyundai certified cars and SUVs today. We're confident you'll find a model that you can write home about when shopping at our Hyundai dealership near Lexington.
Call us at (803) 339-1629or take a test drive at our used car dealership in Columbia, SC, at 310 Greystone Blvd. In addition to our numerous CPO Hyundai models for sale, we also sell new Hyundai and used vehicles, and offer exceptional new and used car specials.
Sources & Photos:
https://www.hyundaiusa.com/certified-pre-owned/
http://www.hyundaicertified.com/Default.aspx