The 2017 Hyundai Elantra is fully redesigned and ready to put a chokehold on the compact sedan market. In its way is the 2017 Civic, a perennial best-in-class favorite that very rarely gets knocked down a peg. But, like David vs. Goliath, this Elantra vs. Civic tale ends with the underdog standing victoriously. Here are the 5 reasons you should consider the 2017 Elantra over the Civic when you start shopping for a new car at our Hyundai dealership in Columbia, SC.


Civic photo credit: automobiles.honda.com
5) Infotainment Systems & Touchscreens
Both the Civic and Elantra come equipped with 7-inch touchscreens, but the similarities end there.
The Honda Civic, a longtime leader in just about every category, falls short here. Critics and consumers alike have claimed that the Civic's touchscreen is downright infuriating to use. In addition to having a puzzling layout, unintuitive menu, small buttons, and slow response times, Honda's display sometimes confuses actions like pinching and swiping with "turn me off right now." Switching between Apple CarPlay, Android Auto, and the standard Honda system can be just as frustrating, if not more so.
While touchscreens and infotainment systems are suspect in the Civic, they're far more intuitive in the 2017 Elantra. The screen is simple and reacts to commands without hesitation, and smartphone integration is excellent. Blue Link Infotainment also adds a touch of convenience by allowing users to remotely start the engine and lock/unlock doors, track the vehicle, and control speed and curfew alerts set for your teen driver.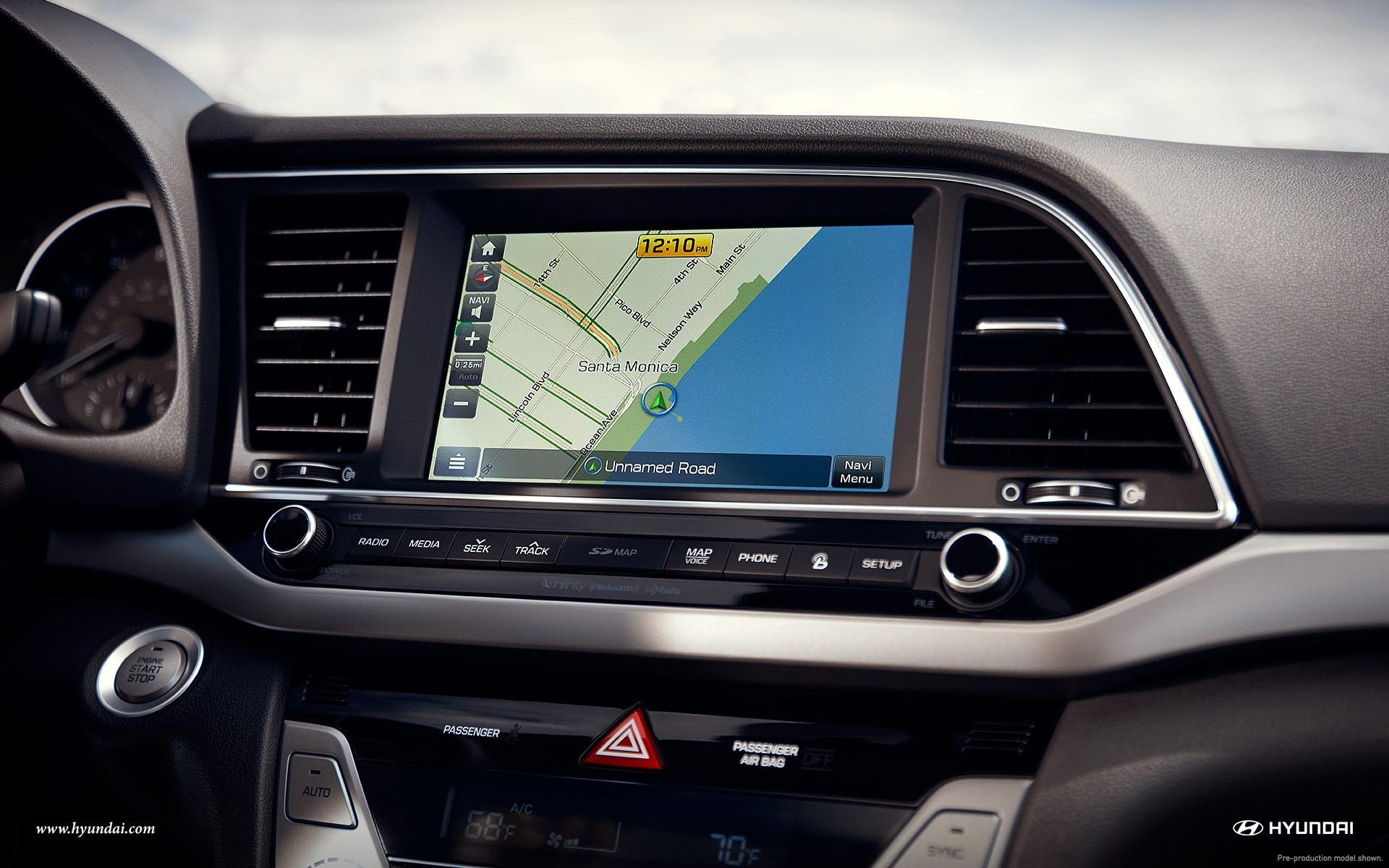 The infotainment center in the new Hyundai Elantra.
4) Knobs, Dials & Controls
The 2017 Civic is a classic example of why you shouldn't rely on technology too heavily. Rather than including manual controls for the Civic's audio and infotainment system, Honda engineers went all-out—realistically, it's more like 83%—by forcing users to access the touchscreen display to change the tunes or volume. As we mentioned above, Honda's display has its share of hiccups, which can make volume adjustments problematic. Steering wheel-mounted controls remedy this somewhat, but they don't offer the same range of options (e.g. scanning for stations isn't simple).
If you'd rather have a set of hardcoded dials—and who wouldn't—the 2017 Elantra's got things under control with a dashboard that's perfectly designed for drivers. Audio controls are in all the right places, AC knobs are positioned above the shifter to reduce clutter, and all buttons are attractive and marked well. There's no need to mess with a slow system when you're driving the new Elantra.
3) Safety Ratings
As an IIHS Top Safety Pick+, the 2017 Hyundai Elantra is this year's class valedictorian. Earning top marks in nearly every IIHS category, the Elantra even scores better than the Civic, which loses some prestige due to a "Poor" grade for its headlights.
What's more, some of Honda's "premier" safety features can complicate matters. Adaptive Cruise Control can overreact to slower or stopped traffic, often activating unnecessarily—the same can be said for the Forward Collision Warning system—and LaneWatch renders the infotainment screen impossible to use when you're waiting in a turn lane. Elantra's Blind Spot Detection produces no such issue.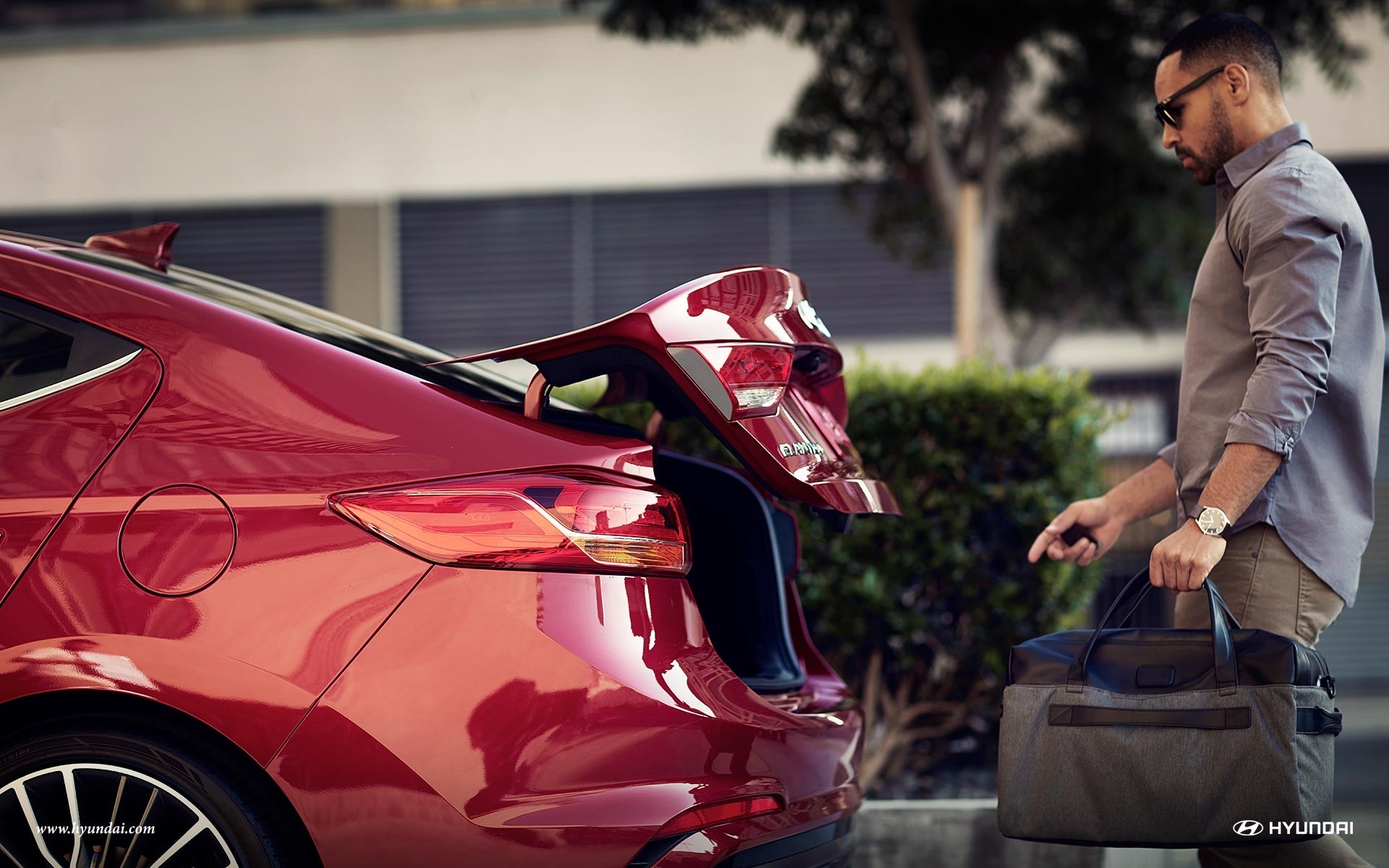 Operating the Hyundai Elantra's power trunk.
2) A Convenient Power Trunk
Convenience comes in many shapes, but only the 2017 Elantra offers it in the form of an exclusive hands-free power trunk. Got your hands full with groceries? Just stand behind the trunk, count three Mississippis, and open sesame—you're in without having to lift (another) finger. It's the first compact sedan with this option, so take advantage of the Elantra before it becomes commonplace.
1) Price, Price, Price (and Warranty Coverage)
Although our Hyundai dealership in Columbia, SC, adjusts prices regularly, you can always expect the Elantra to be priced lower than any comparable Civic trim. The Elantra's starting MSRP sits just over $17,000 while the Honda Civic can be had for nearly $19,000. If you move up to the higher end of the lineup, expect to shell out almost $26k for a Civic Touring—almost 5 grand more than the top Elantra Limited model. And when paired with one of our Hyundai deals, you can save even more.
Of course, every new Hyundai Elantra purchased at Jim Hudson Hyundai comes with America's Best Warranty coverage, including an amazing 10-year/100,000-mile powertrain warranty, 5 years of 24-7 roadside assistance, and 7 years of anti-perforation coverage. The Civic only comes with the industry standard 5-year/60,000-mile powertrain coverage.
Finding Your Elantra is Easy at Jim Hudson Hyundai
The Elantra vs. Civic rivalry will rage on for years, but for 2017, it's clear that Hyundai's compact sedan is more than capable of holding its own. With better touchscreen technology and controls, higher safety grades, and a starting price that won't disintegrate your bank account, the 2017 Hyundai Elantra is the perfect companion for any adventure.
If you live near Augusta, GA, or the South Carolina areas of Lexington, or Rock Hill, contact us at (803) 339-1629 or take a trip into our Columbia Hyundai dealership to test drive the all-new Elantra. We would be happy to show you how to set up, operate, and make the best use of each Elantra gadget. We're located at 310 Greystone Blvd in Columbia, SC, and also have a variety of other new Hyundai models and quality used cars.

Sources & Photos:
https://www.edmunds.com/honda/civic/2017/review/
http://www.thecarconnection.com/overview/honda_civic-sdn_2017
http://automobiles.honda.com/civic-sedan
https://www.hyundaiusa.com/elantra/index.aspx
https://www.edmunds.com/hyundai/elantra/2017/review/
https://www.kbb.com/hyundai/elantra/2017/
http://www.iihs.org/iihs/ratings/vehicle/v/hyundai/elantra-4-door-sedan/2017
http://www.iihs.org/iihs/ratings/vehicle/v/honda/civic-4-door-sedan