Completely redesigned for the model year, the 2017 Hyundai Elantra looks as composed as it's ever been. Refreshed for 2017, the Toyota Corolla will also be sporting a new look. Which compact fares best when they go head to head? Read on to find out.
Comparing Overall Aesthetics and User-Friendliness
Edgy in all the right places, the new Elantra is available at our Columbia Hyundai dealership and comes in three trim levels: the SE, Eco, and Limited, with the Eco being the newest superstar-like acquisition to the team's stacked roster. All three options are handsome in their fresh tuxes, though the Eco has a certain je ne sais quoi allure that's sure to seduce drivers with a come-hither motion.
Clean, refined curves fill out the wide body, and a prominent front grille is an eye-catcher. The roofline is subtler than past models, but still melds harmoniously down the shoulder and into the trunk and rear fender. Air intakes are popped into the contoured frame alongside bracketed LED daylight running lights, which also improves aerodynamics.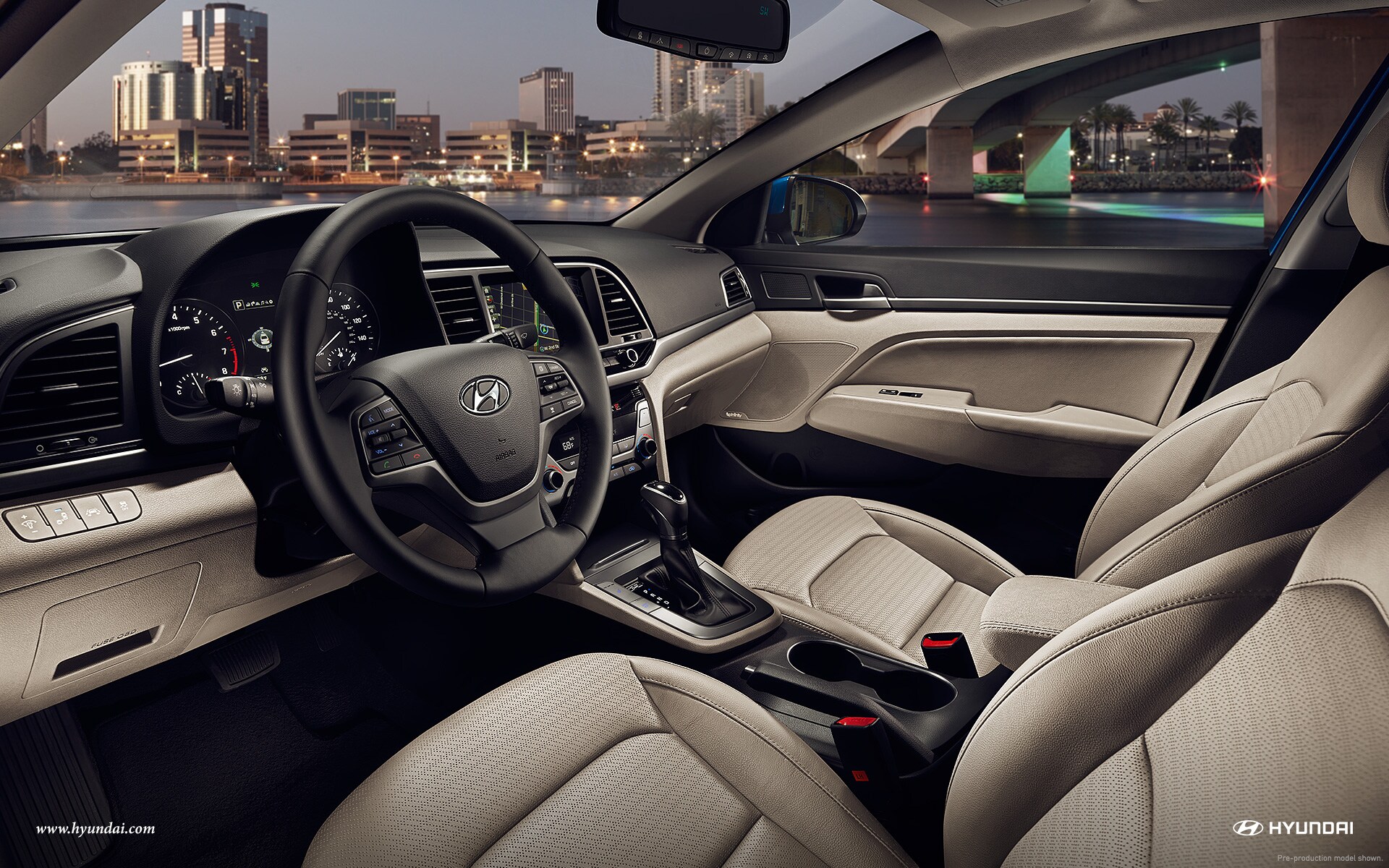 The cabin of the 2017 Elantra embraces the same level of maturity; the center console stack is tight and linear in its design, building upon the horizontal appearance of the car's exterior. From the top-down are an angled touchscreen and air vents, audio and climate controls, storage, and an aesthetically pleasing shifter. Quality materials line the dash in a delicate manner—but not in a dainty way—and the trim never feels extraneous or unneeded. Polished, easy-to-use, intuitive – These are all accurate descriptions of the 2017 Elantra's interior styling, which is a major reason for its 2017 Best New Economy Car nomination by The Car Connection.
With the upcoming 2017 Toyota Corolla, drivers can expect only minor changes or updates from the 2016 model. A newly optional 50th Anniversary trim will be available, but innovation isn't likely the plan. Only three new colors for cloth seats are available. Although the Corolla does bolster its image by offering an updated dash with built-in multifunctional screens, it's mounted far too low on the stack, forcing drivers to completely take their eyes off of the road.
As for the exterior, bland LED lights wrap into the peculiar front fender on the outside, and the angular grille forms what can only be described as a "scoop." It's a bold design choice you'd expect from a forklift or a BattleBot, not a sedan—most peculiar, indeed.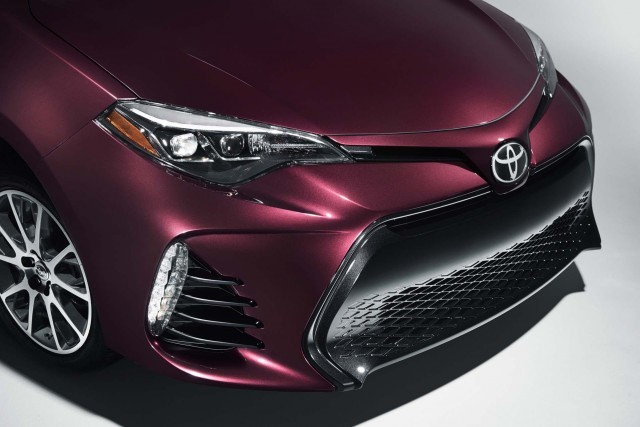 Photo credit: TheCarConnection.com
While some may argue that the 2017 Hyundai Elantra lost a bit of its spiciness, we feel that its maturity shines through like no other car in its class, and certainly more than the Toyota Corolla.
Those Are Some Attractive Features, Elantra
In adding to its already impressive list of features, the new Hyundai Elantra makes itself an ever better bargain. Priced similarly to last year's model, top-notch standard and optional equipment come in droves.
Touchscreen audio is optional on the SE—the 7-inch touchscreen display is standard, and is larger than the Toyota Corolla's—and comes with Apple CarPlay and Android Auto compatibility. For road-trippers, day-trippers, and all other ilk of trippers, this audio integration is imperative to keeping sane. The Elantra Limited is available with xenon lights that pivot into turns for extra illumination, as well as forward collision warning with pedestrian detection and a series of other safety features. Heated front and rear seats, USB ports, dual-zone climate control, premium audio with ClariFi, 8-inch display, Hyundai's Blue Link system, and a unique hands-free trunk are also standard or optional features in the top trims.
The newest Corolla, set to debut later this year, will come with standard connectivity to its 6.1-inch display (also standard), and a suite of safety tech that closely mirrors the Elantra, including available lane departure detection, adaptive cruise control, and a rearview camera.
Comparable Numbers, Incomparable Performance
EPA-estimated MPGs, horsepower, and torque are fairly comparable in this Elantra vs. Corolla matchup, but there's one clear winner when it comes to performance.
In adopting a new 2.0L inline-4 (147 horsepower and 132 lb-ft torque), the Elantra produces a poised, quiet ride no matter the road conditions. Working in tandem with the stiffer new body and reframed suspension, this 4-cylinder makes Hyundai's economy car a pleasure to drive. The Elantra Eco is fitted with a turbo 1.4-liter engine that offers the same high-class performance and cabin comfort but uses fuel more efficiently.
Best yet is the Elantra's impeccable acceleration: It doesn't seem to falter, shudder, or lag when pushed. While never begging to rip asphalt, the Elantra won't keep you confined to Grandma-speeds—and it's available right now from Jim Hudson Hyundai, your local car dealer near Lexington, SC.
Compared to the 2017 Toyota Corolla and its long-tenured standard 1.8L 4-cylinder (132 horsepower and 128 lb-ft torque), the Elantra is undoubtedly the more road-ready sedan. Sure, the Corolla is competent at the basic level, but when pressed to perform, it lacks punch. When merging onto a highway with a Corolla, you'll want to give yourself plenty of space, lest you feel the wrath of about a million car horns. The Corolla's engine needs more than a refresh—it needs a complete overhaul to meet the demands of everyday drivers here in Columbia, SC, and around the country.
Winner: The 2017 Hyundai Elantra
Refreshed but not as rewarding, the 2017 Corolla has a player nipping at its best-selling heels. With handsome looks, a killer personality, and the ability to perform, the 2017 Hyundai Elantra is the clear victor in this Elantra vs. Corolla scuffle. Tame where it matters most yet robust enough to make commuting less of a chore, the Elantra offers exceptional value to just about everyone.
Ready to see for yourself why the Hyundai Elantra is among the year's best? Call Jim Hudson Hyundai at (803) 339-1629 to set up a test drive in a new Elantra or any of our other new or used cars for sale. Located in Columbia, our showroom is conveniently located to serve the nearby South Carolina region, including Lexington, Rock Hill, and even Augusta, GA. Don't wait for a great deal on the sedan that's bound to make a name for itself. Take one for a spin at our Hyundai dealership in Columbia, SC.
Sources:
http://www.thecarconnection.com/overview/toyota_corolla_2017
http://www.autoblog.com/2016/02/01/2017-hyundai-elantra-first-drive-review-video/
http://www.edmunds.com/hyundai/elantra/2017/sedan/review/
http://www.caranddriver.com/hyundai/elantra
http://www.thecarconnection.com/overview/hyundai_elantra_2017