So long Prius; hello Hyundai Ioniq? At least, that's what Hyundai is pushing for when they unveiled their "green" five-door hatchback earlier this year. In fact, they're banking on it.
What we know so far is that the Ioniq will be available in three models: A hybrid, pure electric, and plug-in. These models will have staggered releases through the spring of 2017, and we'll surely carry them all at our Hyundai dealership in Columbia, SC.
What are the Three Hyundai Ioniq Models?
The Hyundai Ioniq Hybrid will be released in late 2016. It's a traditional gas-electric hybrid, offering 104 horsepower from a new Kappa 1.6L direct-injected gas engine, and 43 horsepower in its electric motor and 1.6-kWh lithium-ion battery, which is craftily stowed underneath the rear row of seats. The hybrid model will be available in FWD, and will have console-mounted shifters as well as a six-speed automatic transmission, which, according to Car & Driver's Mike Duff, the company chose to "avoid the rubber-band sensation of a continuously variable automatic." There's word that the Ioniq Hybrid will also have a pure-electric mode, though we're uncertain of its range.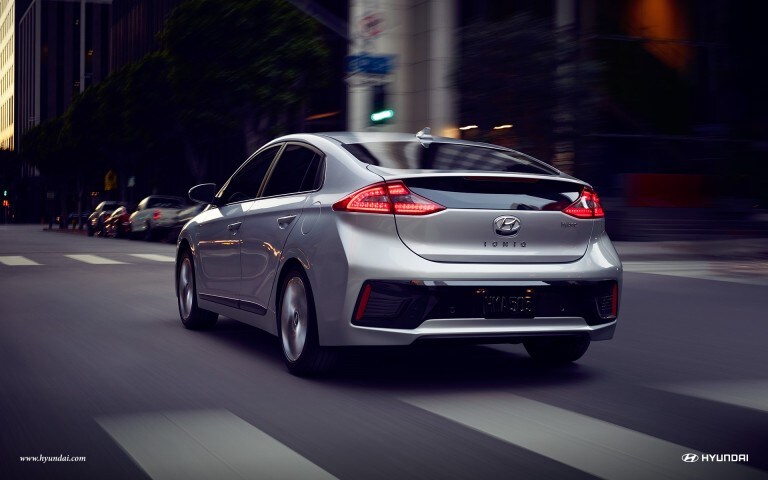 Hyundai's Ioniq EV is set to hit our showroom sometime in the fall of 2016. Visually, the Ioniq Electric stands apart from its two siblings, thanks to push-button gear shifters and a copper-hued interior, as well as a grille-less design, which the company opted for as there's no engine cooling required.
Yes, that's right: The Ioniq EV is a battery-electric car without an engine. In its place, you'll find a 120-hp motor that pushes power through a single-speed gear and into the front wheels. The motor will be paired with a 28-kWh battery—also found under the rear seat—that should provide a range of 110 miles (estimated). A 100-kW charger should be able to recharge the battery to 80-percent capacity in as little as 25 minutes, while a household socket could do the job overnight.
Last but not least is the Ioniq Plug-in, which is set for release in the spring of 2017. It uses the same Kappa 1.6L engine as the hybrid but comes equipped with a meatier 60-hp electric motor and 8.9-kWh battery pack, equating to approximately 25 miles of pure-electric driving range. The design both inside and out is similar to that of the hybrid model.
Other Ioniq Features & Details
Though some information is still unavailable—we aren't aware of concrete prices, measurements, or weights—we do know that the three Ioniq models will sit on what Hyundai considers to be a revolutionary "eco" platform and chassis. The aluminum and high-strength steel frame keeps weight down without sacrificing passenger safety or vehicle rigidity. This is key to the future of green cars; as we know, a lighter frame and body requires less propulsion and energy for it to move, meaning lighter, more condensed batteries are right around the corner. Hyundai is so immersed in developing the best possible eco-car, they've even used sugar cane and volcanic stone in the cabin to reduce weight.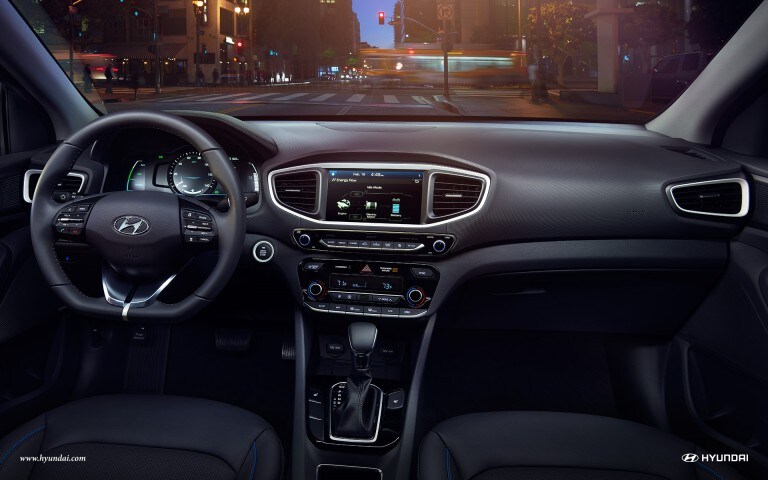 Inside all three Ioniq models are sensible, modern features and comforts. The center dash is unobtrusive and has a built-in 720p, 7-inch touchscreen above the traditional HVAC controls. Word around town is both Android Auto and Apple CarPlay will also be integrated into the infotainment system by the Ioniq's release. Other features include a wireless Qi-type charging mat, console storage for tablets and thin laptops, a panoramic sunroof, and split fold-down rear seats. Safety features and systems will likely include blind-spot monitoring, lane-departure alert, adaptive cruise control, lane-change assistance, rear cross-traffic warning, rear cross-traffic alert, and automated braking in the event of an emergency.
What's most interesting is the implementation of Blue Drive® technology, and in particular, the Blue Link® app. While Blue Drive® aims to lower pollution and up performance, the mobile app offers complete owner convenience thanks to some super nifty features like monitoring battery levels and setting charging time to take advantage of off-peak electricity rates.
No details on the Ioniq's prices are currently available, but we suspect the three models will have MSRPs that will stay competitive with the big-time bruisers in the market.
What are Hyundai's Plans?
Hyundai seems quite comfortable embracing eco-friendly—we would even go so far as to say bear-hugging the idea—after proposing plans to flood the market with more than 20 green cars by the year 2020, one of which being a 250-mile EV. The Ionic and its three models will be Hyundai's opening statement that they're here to win, not just participate with the likes of Toyota and Tesla.
As the manufacturer preps for the next four years of green (in more ways than one), you can expect our Hyundai dealership in Columbia, SC, to keep you in the loop. Keep checking our blog for updates on the Ioniq or any new Hyundai vehicles and current car specials, and come take a spin in one of the hybrids, EVs, or plug-ins once they're in stock. Contact us at 877-882-7361 to speak with a salesperson about test driving the Hyundai Ioniq, or visit the Jim Hudson Hyundai showroom at 310 Greystone Blvd in Columbia to witness the birth of the new automotive standard.
Sources:
http://www.caranddriver.com/hyundai/ioniq
http://www.autoblog.com/2016/05/23/hyundai-planning-250-mile-electric-vehicle-by-2020/
http://blog.caranddriver.com/hyundais-250-mile-ev-arrives-by-2020-will-be-bigger-than-the-ioniq/
http://www.whatcar.com/news/2016-hyundai-ioniq—everything-you-need-to-know/
http://www.cnet.com/roadshow/auto/2017-hyundai-ioniq/
http://www.thecarconnection.com/overview/hyundai_ioniq_2017