The 2017 Hyundai Sonata is mostly unchanged from the 2016 model year, but as the saying goes, "if it ain't broke, don't fix it." Carrying over the stylish charm, interior features, and many versatile trim levels, the all-new Sonata is still a perfect complement to Hyundai's lineup. And it doesn't flicker in the wind made by SUVs; the Sonata is a spacious people-mover in the guise of a four-door sedan, and it's ready to break out from the pack.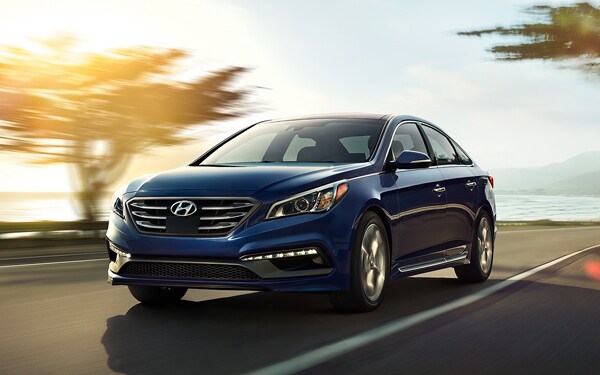 So what exactly is new with the 2017 Sonata? Read on, dear reader, and explore Hyundai's newest game-changer—which just so happens to be available at Jim Hudson Hyundai, your premier Hyundai dealer in Columbia, SC.
Six Trim Levels & Infinite Appeal
Hyundai introduced the 2017 Sonata to appeal to the masses—and appeal it does. Across the lineup, the Sonata puts itself in a prime position to succeed as one of the segment's class leaders.
The Sonata's clean layout can be loved by all, thanks to dedicated buttons that aren't buried in meaningless arrays, which is a much-appreciated design choice that spans across all trim levels. There's plentiful passenger room for four adults—four adults and a small child, or four adults and the annoying cousin you force to sit in the middle—and the padded front seats are incredibly comfortable. Trunk space is more than adequate at 16.3 cubic feet, and the 60/40 split seat turns "more than adequate" into "supremely generous."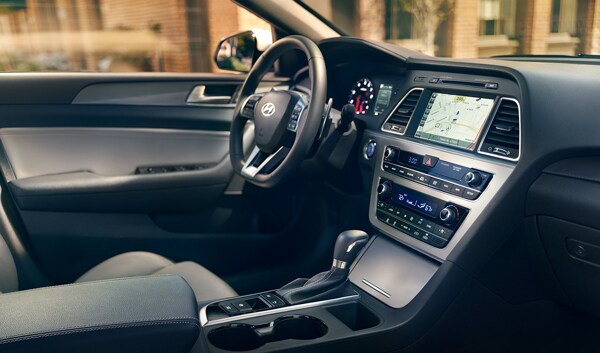 With six trim levels from which to choose, in addition to a Hybrid model, the new Sonata is not lacking in variety, either.
The Sonata SE comes standard with notable features like a tilt-and-telescoping steering wheel, rearview camera, 7-inch touchscreen, heated mirrors, split-folding rear seats, Bluetooth connectivity, satellite and HD radio, and Hyundai's Blue Link® telematics system, among many others. A 2.4L four-cylinder engine sits under the hood, producing 185 horsepower and returning an estimated 29 mpg combined. Powered by 178 lb-ft of torque, this engine is standard in the SE, Sport, and Limited trims.
A step up from the SE is the 2017 Sonata Sport, which comes with features such as LED daytime running lights, eight-way power driver's seat, interior leatherette and carbon-fiber accents, side mirrors with turn-signal displays, and a sporty front grille. Features like the smart hands-free trunk, keyless entry, push-button start, and heated front seats come optional in the Value Edition package.
The 2017 Sonata Eco is a favorite of not just ours, but also owners. It's equipped with a sneakily hushed 1.6L turbo-four with 195 lb-ft of torque and 178 horsepower—an engine that may look unimpressive on paper, but is super invigorating in practice. It's quick to hit 60 mph, EPA-rated at over 30 mpg combined, and zips along without too much barking. It's certainly a top choice if you're looking for a beastly gas-sipper.
Trading the sporty appearance of the Sport for more luxurious accents, the Sonata Limited looks spiffy with its LED taillights, 17-inch alloy wheels, wood trim, leather seating, and a special auto-dimming rearview mirror. Power passenger seats, dual-zone AC and climate control, and rear seat vents add extra comforts to this already comfortable sedan, while driver-assistance features like blind-spot monitoring and rear cross-traffic alerts keep all occupants safe.
The 2.0T models—Sonata Sport 2.0T and Limited 2.0T, respectively—come with the more powerful 2.0L turbocharged engine that returns an estimated 26 mpg combined. Producing 245 hp and 260 lb-ft of torque, it's still a surprisingly quiet engine in and of itself. When combined with the sport-tuned suspension, impeccable steering, and 18-inch wheels of the Sport 2.0T, this turbo-four engine is certainly more of a shy beast than boisterous beauty.
The Limited 2.0T rounds out the 2017 Sonata models and comes standard with features such as a panoramic sunroof, lane-departure warning system, heated steering wheel, nine-speaker audio system, adaptive xenon headlamps, automatic emergency braking, engine stop-start, rear sunshades, an 8-inch touchscreen, and more. Many of these features are also available on lower trims, so be sure to ask about your options when buying a new Sonata at our Hyundai dealership.
Test Drive a 2017 Hyundai Sonata in Columbus, SC
Having just added the 2017 Hyundai Sonata to our inventory of new cars in Columbia, SC, we think a test drive might be in your immediate future. Call our sales floor at 877-882-7361 or visit Jim Hudson Hyundai at 310 Greystone Blvd to fall in love with the new Sonata. We're conveniently located in Columbia to serve customers throughout the area, including Lexington, SC.
In addition to our lineup of the newest Hyundai models, we're also proud to be one of the finest used car dealers in Columbia. If your budget doesn't allow you to squeeze a new 2016 or 2017 Hyundai into your life, check out our inventory of used and certified pre-owned vehicles, and always be on the lookout for exceptional Hyundai discounts.
Sources:
http://www.edmunds.com/hyundai/sonata/2017/review/
http://www.motortrend.com/cars/hyundai/sonata/
https://www.hyundaiusa.com/sonata/
Photo Source: